Whatever the venue, Dr. McSwain instantly connects with audiences, inspiring them to awaken to their spiritual identity, to aspire to live an authentic, abundant, and charitable life, and to achieve their dreams of life and faith.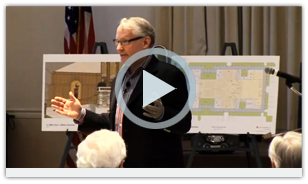 While drawing on his Christian heritage, his speaking favors no particular Christian denomination or religious tradition. Consequently, his message is equally welcomed by those of all religious traditions, as well as those of no tradition.
Dr. McSwain's message is cordial, but insightful and filled with humor. He inspires his audiences to achieve the highest levels of excellence in their personal and professional lives.
One listener observed, "Dr. McSwain not only has the ability of inspiring others to be more loving and charitable than they ever dreamed possible, but he gives everyone the satisfying sense of belonging deeply to God and God's plans."
MOST POPULAR TOPICS:
1. Topic: "Things I've Learned from Jesus, the Buddha, Lao-Tzu, and Other Spiritual Masters: Insights from an Awakened and Recovering Baptist Minister" – Heard in Multiple Unity Churches such as Unity of Cincinnati – Cincinnati, OH; Unity of Gainesville, Gainesville, GA; Unity of Middletown, Middletown, KY, etc.
2. Topic:  "If You Want to Be Happy…" – Humorous/Motivational talk heard by thousands in dozens of locations/venues from New York to California, from Wisconsin to Florida.
3. Topic:  "Living the Life You've Always Wanted" – Keynote address at a variety of inspirational events across the country.