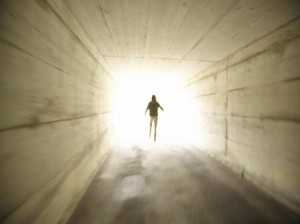 NDE – Near Death Experiences.
Heaven.
Hell.
Questions about whether there is actually life beyond the grave invite such debate.  Immense emotion, too.
Express doubt about whether there is a heaven and you'd better be prepared for the barrage of negativity that will come your way.
Raise question about whether there is a hell and you'll get a mixed response.
But, in either instance, you should be ready for an immediate response and, generally speaking, the response will often show up drenched with emotion.
Frankly, I have little interest in either one, anymore.
And, why should I?
Why should you?
Jesus said, "Take no thought for tomorrow" (Matt. 6:34).
I take that pretty seriously.
I am infinitely more interested in learning how to live in this life now.
That might be the right thing to do. Or, some may think a reckless and naive approach.
This is what I have chosen – and it is a choice I have made, just as you must make the choice about your own life. As for me, I have chosen to give my attention to the only life that is…the only life I know…the only life I've ever known…and, as far as I can tell, the only life I can know for certain that I have…
…and that life is THIS LIFE NOW.
In other words, I make it my daily practice to make heavenly my earthly life right now – this very instant.
And, as much as it is within my power, I wish to so live as to create a heavenly environment around me, too…an environment that would make it more heavenly for those who know me and interact with me.
I do not succeed at either of these ambitions perfectly.
By living this way, however, I am able to better fulfill what I understand Jesus expects of me when he taught followers to pray and, so, by implication, to seek to live, "Thy will be done on earth as it is in heaven" (Matt. 6:10).
My friend, I invite you to give sincere and thoughtful consideration to what I am suggesting.  When Jesus described his mission on earth with these words, "I have come to seek and to save the lost," (Luke 19:10) from what was he seeking to save people? From some imaginary tomorrow? Eternity?
Many think so. Many preach this regularly. And, for those who know me, when I was a minister, I used to do the same.
Not any longer.
Why?
Because I think I missed his point entirely.
Today, I'm pretty sure Jesus was infinitely more interested in saving people from how they were living, or, in many cases, failing to live, life NOW!  That is, more precisely, in THIS present moment.
Consider this:  If there is a tomorrow…if there is a place called heaven…and, I'm inclined to believe there is, although there is no PROOF OF HEAVEN, not even when a surgeon writes about it, so do not waste your time reading books about those who've been "beyond and back," so to speak because their experience will do little to eradicate your own fear…but, if there is a tomorrow…if there is a place called heaven…
…heaven
…tomorrow
…will ONLY EVER…
I repeat…
Tomorrow only ever shows up…
as…
another…
TODAY.
Get your living of life RIGHT TODAY…
and, as Jesus said…
"…tomorrow will take care of itself" (Matt. 6:34).
This is…
YOUR BEST LIFE NOW!