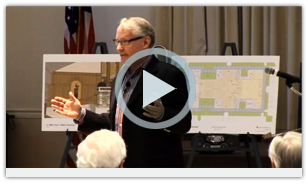 "Dr. McSwain not only has the ability of inspiring others to be more compassionate and charitable than they ever dreamed possible, but he gives everyone the satisfying sense of belonging deeply to God and God's plans" – Fr. Jerry Kaywell, Sacred Heart Parish, Punta Gorda, Florida
Popular Topics:
"Things I've Learned from Jesus, the Buddha, Lao-Tzu, and Other Spiritual Masters: Insights from an Awakened and Recovering Baptist Minister" – I've delivered this talk in multiple congregations where ecumenism and interfaith relationships matter.
"Why Are People So Unhappy: Finding and Following the Pathway to Joy" – this is the subject of a new book I am currently writing. It's a humorous and inspirational talk heard by literally thousands of people in dozens of corporate and congregational venues from New York to California, from Wisconsin to Florida.
"Living the Life You've Always Wanted" – This keynote address has been heard at a variety of inspirational events across the country.