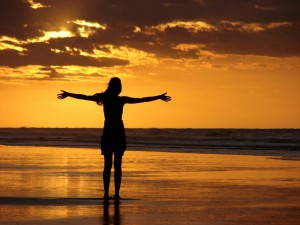 What Is the Single Greatest Spiritual Truth You Have Ever Learned?
I got asked that question today and, after thinking for a moment, I suppose I would have to answer like this:
"As soon as you are disposed to being alone with God you are…no matter where you are: in the city, in the monastery, in the country, in the woods. At the precise moment it would seem you are in the middle of your journey, you have actually arrived at your destination already."
I'm not smart enough to have stated it so eloquently, or so clearly, so what I have quoted above is something I memorized years ago. It was Fr. Thomas Merton who first spoke those words.
They have become my mantra – my "instrument of the mind" – words that I use as an instrument to train my mind and so warm my heart. I repeat these memorized words to myself, and have done so almost daily, for as long as I can remember.
And, why do I?
Because, in my opinion and experience, there are no more important words for me or for any person of faith…any person who would seek to live a spiritually-connected, Divinely-rooted life of profound consciousness.
The moment you feel a longing for God, my friend…
No, the instant you are inclined to seek after the Divine…
Know this: At that precise instant of longing…that momentary impulse…that deep desire – at that instant, you could not be closer to God – you are, in fact, ONE with the fullness of God.
What could you possibly ever know…or long for…or ever, ever need that could surpass this inner knowing? This inner confidence? This inner reassurance?
You, my friend, are the NEW incarnation…God in human flesh.
If you know THIS…you will not only live your best life, but you will know a joy unspeakable and a humility as unto Christ himself.
In fact, I think it is safe to say: You will have discovered the greatest Mystery of life.
Read more: http://blog.beliefnet.com/yourbestlifenow/2013/07/the-single-greatest-spiritual-truth.html#ixzz2YwgwYw21