What is Spirituality?
I like the way Rabbi Kaplan defines spirituality. He says spirituality is "the progressive unlearning of the strange ideas about God you've been taught…"
If it is not obvious to you why I like this definition, that's only because this is likely the first blog of mine you've ever read. In other words, I write much and often about the failure of religion in my own life. Failure might not be the right word. It should be reserved for those who have actually been abused by religion or religious leaders. I cannot say that I was ever abused. I've just been disappointed by it.
I have spent the greater part of my adult life learning how not to be religious but to be spiritual. If you were raised, as I was, in a family where religion was worn like one might wear a garment, easily put on when needed but discarded when not, you know what I'm saying. I was surrounded by religious people all the time. I'm not sure, however, I was ever surrounded by much that would pass as spirituality.
How May I Nurture Spirituality Within?
Like some of you, I've always hungered after spirituality. As a consequence, I have learned many things about it over the years. What follows are five things I think are important all spiritual seekers should know about spirituality and how to nurture a mindful sense of the spiritual.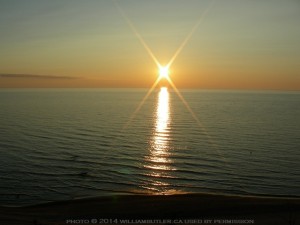 Spirituality is being who you really are. © 2014 Bill Butler Used by permission.
1. Spirituality is not something you attain; it is the nature of who you are.
The Christian philosophy Teilhard de Chardin used to say,
"We are not human beings having a spiritual experience; we are spiritual beings having a temporary human experience.
It is important to start with this understanding of spirituality. Otherwise, you'll go through life seeking what cannot be found.
What you must know is this: your interest in all things spiritual is not simply because you were raised in a religious environment. Certainly, that is a factor in your interest or, disinterest, depending on the quality of your religious experiences. My point here, however is that spirituality itself is very likely written into the genetic code or your very own DNA.
No need, therefore, to seek what you are already. Instead, know this. Celebrate it.
Now, if you were raised in a Christian tradition, what I've said already is enough to disturb, or confuse, some readers.
Most Christians tacitly assume they are separated by God but have never explored where this Doctrine of "Original Sin" originated or if there is any validity to it whatsoever.
Why?
It is because you have been taught that, because of "Original Sin," you are separated from God. I was taught this, too. In fact, as a Christian minister, I taught it to others. Then, one day, I asked the question, "From where did this notion of separation come?" After learning, I realized it is wrought with error and was the invention of Saint Augustine in the 4th century CE.
Here is the real truth: You are not separated from God. How could you be? Jesus demonstrated over and over again that, with God, there is no separation. There are no barriers to keep you out. There are no rituals to perform or rites of initiation to which you must submit. There are no words you must recite in order for the presumed barrier between you and God is removed.
Just as in the days of Jesus, religious institutions have developed a cadre of things you must do, each different from the others, as well as formulas you must recite, doctrines to which you must subscribe, or rituals you must perform to set in motion God's forgiveness for your separation. I have come to believe it is all nonsense and has done enormous harm on countless people in all generations.
Jesus said, "Behold I stand at the door and knock. If you hear and open the door, I will come in" (Rev. 3:20). In other words, God seeks you and me. He knocks. The only prerequisite is to hear and open yourself. If there is something more, I no longer know what it could possibly be. Do you?
You will have to come to your own conclusions.
What I do know, however, is this: The deeper this heresy has been drilled into you, the more difficult it will be to let it go. You must, therefore, make the releasing of these ideas your spiritual practice. In time, they will leave you and, when they do, you will know a spirituality far more wonderful than anything you have ever known before.
2. Your spirituality and/or religious upbringing, such as either may or may not be, holds no patent on the Divine.
I think I've always known this. But it was not until just a few years ago I had the courage to admit it.
Why?
I was a Christian minister. Had I publicly admitted to my congregation that I sometimes had doubts about my own faith or that I frequently wondered if Christians alone were within God's family, I would have been "tarred and feathered," so to speak, by threatened, insecure religious people many of whom took comfort in believing they were members of God's club while others were not.
"You can have religion with spirituality; you can also have religion without spirituality" – Eckhart Tolle. I would add to this, "You can have spirituality without religion."
Fortunately, I'm at a different place today.
I am Christian still. My critics may question whether I am. But that is their issue. I have learned it matters not what I say to explain how I have arrive at a different place, their minds are made  up already.
I am certain, however, of my Christian identity and my faith commitments. No religion, however, not even Christianity, could ever incarcerate God in a tiny prison of understanding or belief.
God is a big God and, while I think that in Jesus, we see divinity most completely revealed in and through his humanity, that does not mean that only followers of Jesus can know God or be grounded in genuine spirituality.
Your spiritual nature will flourish more beautifully if you will let go of the arrogance that is always the consequence of inner insecurity with one's own spiritual identity. If you meet a religious person who seems interested only in making himself right by making others wrong, know that you've met a very insecure person. If he or she were in touch with their own spirituality, they would have nothing to prove and nothing to defend.
Make it your ambition instead to grow up into spiritual maturity. As you do, you will then be able to say with Mother Teresa, "I love all religions but I'm IN LOVE with my own."
3. A deep, enriching spirituality is the consequence of a regular practice of meditation, introspection, reading, and reflection. Your spiritual consciousness expands but only in direct proportion to the attention you give to it.
We know this to be true in virtually every discipline. I teach university students, for example, the art of persuasive speaking. During any semester, students are expected to speak at least four to six times. While the first speech is a short three-to-five minute introductory speech, by the end of the semester, they are required to deliver a twenty-to-thirty minute speech.
Why do I have them make this many speeches in one semester? It is because I know that, by practicing one's art, whatever it may be, one becomes a skilled practitioner. What better way to become a great speaker than by practicing one's speaking?
What is true of any discipline is true for any disciple or seeker of spirituality.
Learn the art of meditating, therefore, and the power of silence. Make these your regular practice, but especially when it seems they are not working. That's the irony, even the mystery. When it is tough to find the motivation to meditate, for example, you are on the verge of an important breakthrough. When you find it next to impossible to stop the incessant stream of thoughts invading your consciousness, stay with these practices. You will soon awaken to a whole new dimension of spirituality and spiritual living.
Just as You Are What You Eat, You Are What You Read
Immerse yourself in the rich repository of spiritual wisdom written by practitioners of spirituality throughout the ages. You will be doing for your inner life what the spring rains do for a newly planted garden. Spirituality will take root and burst forth with growth. As an unavoidable consequence, you will know and rejoice in your walk with God.
"What should I read?" you ask.
Here are a few of my favorite spiritual guides and some of their better writings:
• Pema Chodron, Start Where You Are: A Guide to Compassionate Living
• Phil Jackson, A Monk in the World: Cultivating a Spiritual Life
• Thich Nhat Hanh, Peace is Every Step: The Path of Mindfulness in Everyday Life
• Eckhart Tolle, The Power of Now: A Guide to Spiritual Enlightenment
• Mark Nepo, Seven Thousand Ways to Listen: Staying Close to What Is Sacred
Of course, I would also encourage you to read my own book The Enoch Factor: The Sacred Art of Knowing God. I close with the question that both opens the book and closes it…
"

You were born to walk with God…So why would you walk alone?

" – Dr. Steve McSwain